FAST Dispatch, FREE UK Delivery...
Knitted Cotton Blankets (Pram, Rabbit)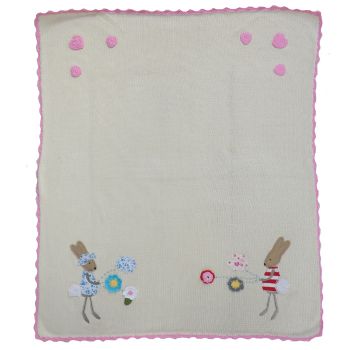 £
28.99
In stock
£28.99
In Stock
Personalised Baby Blankets - Knitted Cotton Baby Blankets
100% Cotton Knitted Baby Blankets from Powellcraft
Create your personalised knited baby blanket by selecting one of the timeless designs and add baby's name and date of birth
Our cotton knitted baby blankets are available in either pram or cot size.
Blankets Measure - Pram 65cm x 75cm and Cot 75cm x 107cm
Machine Washable
Dates are embroidered in the dd.mm.yy format
Special Offer On Train Design Blankets
NEW Unicorn Pram Blankets
CSC Communications Limited.
Registered in England.
Company registration number: 02379678
Copyright © CSC Communications Limited
Orders Are Still Being Dispatched Within One Working Day. We are a home based family business and are very lucky to say we are still able to offer the same level of service to our customers. Delivery - items may take a little longer to arrive at the moment - but Royal Mail staff are working hard for us so please be patient.