FAST Dispatch, FREE UK Delivery...
MyTaggies Patterned (Big Dreams - Blue)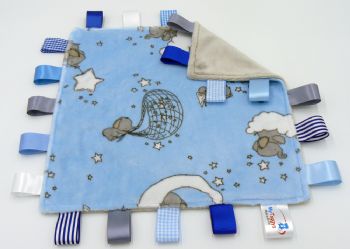 £
12.99
In stock
£12.99
In Stock
Personalised Taggies Blankets - MyTaggies Patterned
Choose from our range of super soft taggy blankets in plain and patterned fabrics. MyTaggies with their tactile ribbon tags and soft cuddly fabrics are ideal for babies
MyTaggies are CE marked and suitable from birth
Personalise your MyTaggies blanket with baby's name and date of birth for an original baby gift and keepsake
MyTaggies Patterned taggy blankets feature designer plush fabrics with 20 textured, satin and patterned tag ribbons. Patterned fabric is on the front with a plain fabric back.
MyTaggies taggy blankets are the perfect gift for New Babies, Birthdays, Christenings and any Special Occasion
Blankets measure 30cm x 30cm (excluding ribbons)
Machine washable
PERSONALISATION - embroidery is available on the front or back of the blanket. The back of the embroidery is not visible on the blanket.
Dates are embroidered in the dd.mm.yy formati
CSC Communications Limited.
Registered in England.
Company registration number: 02379678
Copyright © CSC Communications Limited
Orders Are Still Being Dispatched Within One Working Day. We are a home based family business and are very lucky to say we are still able to offer the same level of service to our customers. Delivery - items may take a little longer to arrive at the moment - but Royal Mail staff are working hard for us so please be patient.